When Hein Scholtz moved into his Boston, Belville home three years ago, there wasn't much in the way of a garden. Today, passers-by stop to admire the explosion of colour, and even ring the doorbell to ask if they can pick some of his magnificent ranunculus, tulips, irises or poppies that line the sidewalk.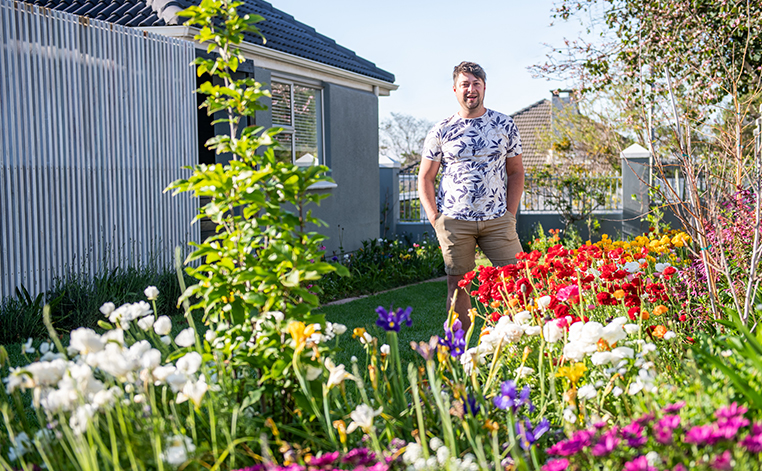 Where it all started
Born in sub-tropical Tsumeb in Namibia, Hein grew up appreciating the myriad of fruit trees and plants in his area. His suburb was full of colourful gardens alive with birdlife and insects, and he made pocket money mowing the neighbours' lush lawns. His grandfather was involved in the Succulent Society of South West Africa (now Namibia), and Hein inherited his love of horticulture.
The move into his home in Boston, Belville coincided with the severe drought that struck the Western Cape, and so Hein was inspired – if not forced! – to come up with a long-term plan for his garden. The plan was to not only make the most of the space, but also to remain waterwise and rely predominantly on seasonal rainfall. Inspired by horticultural writer Monty Don, Hein's plan remains true to the ethos that gardening is about the learning experience and remembering it won't always look it's best.
Phase 1: Laying the foundations
Because of the water restrictions, Hein spent the first year tending to the soil. For months he added compost and other organic matter to what started as typical Cape Flats sandy soil. Soon he had a rich medium that provided a nutrient-dense environment for planting in the years to come.
Phase 2: Decisions, decisions
Once he was ready to plant, the next phase was meeting expectations: Hein's partner wanted a tropical garden, whereas Hein was after a waterwise garden that was full of character. To meet both briefs, he decided to dedicate the back courtyard to a lush, tropical paradise under the shade of an enormous avocado tree. Hein planted tree ferns and clivias in this shady spot. He has an impressive collection of both indigenous and exotic potted orchids, which he moves around this space as he sees fit.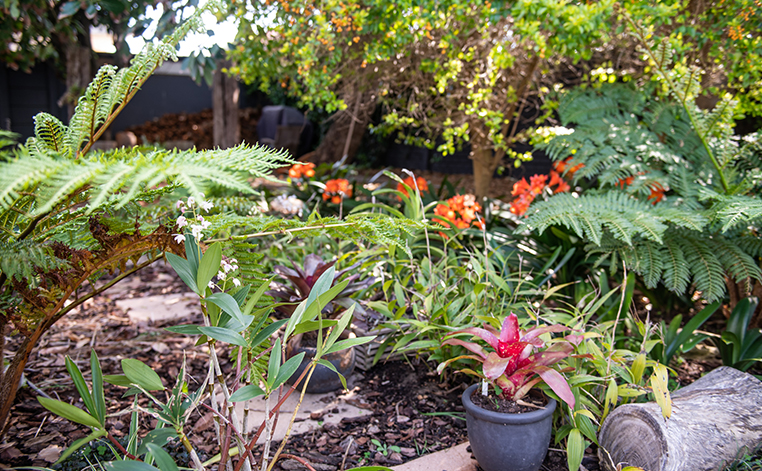 But the front garden is where the true magic lies. Hein managed to save three old Iceberg floribunda roses during the drought and planted a selection of trees: small flowering cherries, saucer magnolias and crab apples. The sloping side garden – which previously turned into a swamp in winter – was split-levelled and turned into a small orchard: 6 varieties of citrus, dwarf apple, pear, fig, nectarine, quince and cherry trees were planted, as well as seasonal veg.
Hein managed to get hold of spring bulbs from Stodels – daffodils, freesias, ixia, sparaxis, chincherinchee, ranunculus and anemones – and planted them in the empty beds beneath the trees. The next spring, the magnificent array of flowers appeared – and he was hooked! They grew without watering, and they were easily removed in summer for replanting the following year.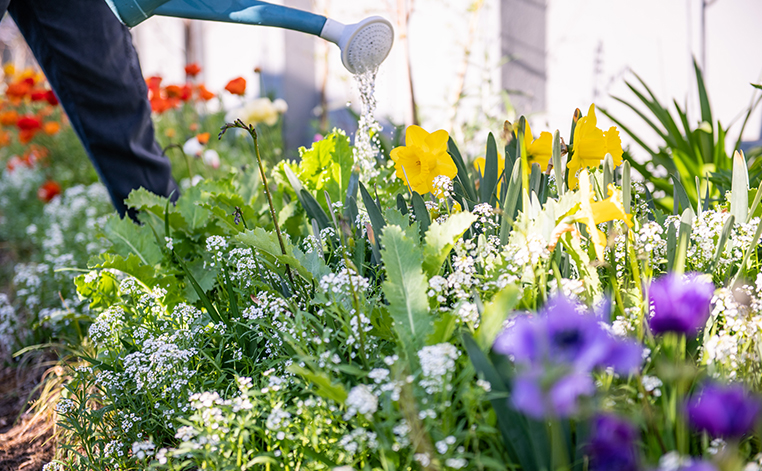 Phase 3: Tackling the pavement
During the second autumn in his home, Hein decided to focus on the sidewalk garden. First, he opted for olive trees, a variety of fynbos (including leucadendrons, leucospermums and King proteas), Cape myrtle and Cape plumbago. He then sowed handfuls of poppies, daisies and other annuals, and baby bulbs sprouted from the previous season's freesias, ixias and sparaxis. This show-stopping array of colour is noticeable from a distance and adds a cheery, low-maintenance border to a space that's usually neglected.
Come summer, he'll leave the flowers to go to seed and cover the area with mulch before replanting next autumn.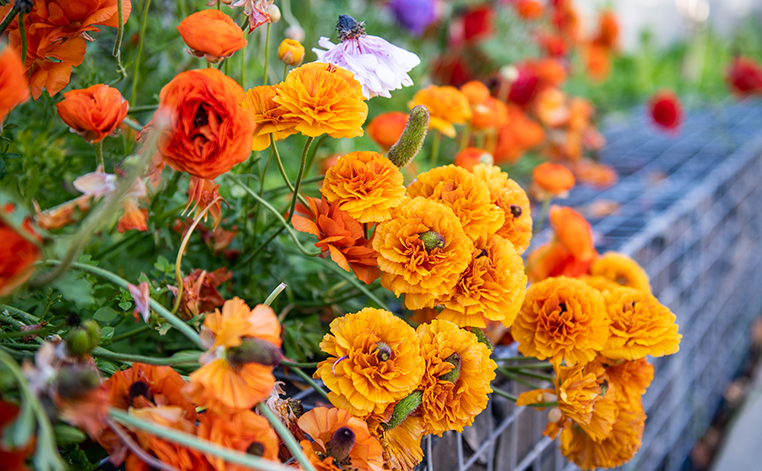 The future
Hein's five-year plan for his garden – of which there are two years left – is to have a largely self-sustaining garden. He aims to spend the next two seasons "filling the gaps": underplanting the front garden with more waterwise perennial shrubs and fynbos, including ericas, low-growing proteas and restios.
He will, of course, leave patches dedicated to bulb planting in autumn, and salvia and dahlias in summer. His cheery garden just wouldn't be the same without them! The challenge of a cottage-style garden means he will always have something to do in a space that is so therapeutic to him.
"Allowing yourself to get lost in the life cycle of a bulb, germinating an annual, picking your own chillies or even enjoying a large palm in your bedroom… that is the best kind of therapy," says Hein.
We couldn't agree more. Feeling inspired? Follow our guide to growing flowering bulbs here.