Growing your own vegetables and herbs ticks all the right boxes in terms of health, eco awareness and education. But it's not always easy to know what to plant and when, or how to source the best seeds and seedlings.
Easy Peasy has been created to make your life a little less complicated. With this initiative, Stodels Garden Centres get to supply 24-pack organic seedlings to households that want to try growing their own food.
The lovingly cultivated seedlings are disease- and drought-resistant, and open-pollinated. Each month's selection is perfectly timed for the season and includes an online support service that "tray farmers" can subscribe to for hints and tips on planting, maintenance and harvesting. Online support is offered via Instagram and Facebook (@easypeasyseedlings), as well as a monthly newsletter.
Anyone can grow these seedlings anywhere. Plant them in pots if you live in an apartment, or dedicate a patch to them in your garden if you're a serious backyard farmer. All they require is approximately one small watering can of water every two days.
Great for the environment, high in nutrients
Growing your own vegetables is good for the environment and won't leave you out of pocket, says Easy Peasy founder Leigh Brown. "The amount of water* used in industrial farming is far greater than that used in a home garden because you're able to be very specific about where the water ends up. You can also reuse general household water. You'll be amazed at how much your little garden provides and it will inspire you to eat well and share with others."
Food that's ready to be harvested as needed also eliminates the waste associated with shop-bought food and delivers the best possible concentration of nutrients – nutrients that would be lost in the food-chain process.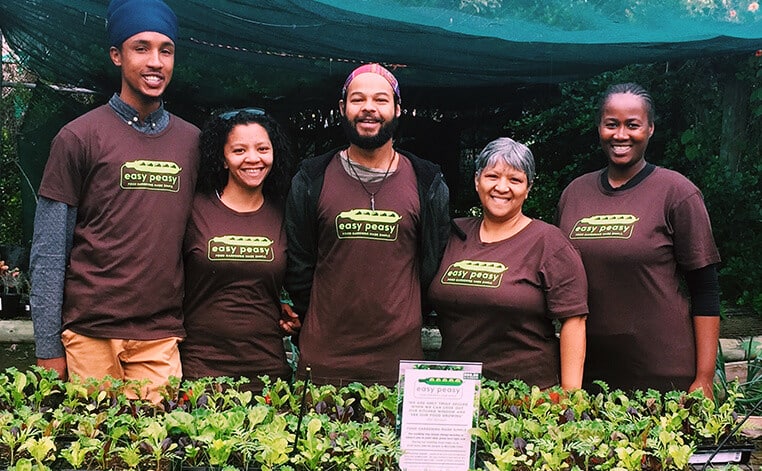 The initiative was conceived and is driven by the award-winning public benefit organisation SEED. The organisation has been working with food security and climate adaption in under-resourced areas, particularly on the Cape Flats, for the past 20 years. During this time, SEED has perfected their potting mixes and organic-seed propagation to produce highly reliable plants.
"This project has gone out of the gates employing four previously unemployed people from the Cape Flats. As we grow, we hope to provide more employment in an area that's under extreme social and economic pressure," says Brown. "Growing your own food is the ultimate resilience."
Get your tray from your local Stodels Garden Centre
Easy Peasy is available at Stodels Garden Centres in the Western Cape. The Veg Out trays (including 24 seedlings) are designed to get you eating from your garden, and they are available for only R99.95 per tray.
*Virtual water is the water that's used in farming processes. It's the hidden water footprint in food that isn't seen in the end product. Beef farming is a big virtual water consumer, with 15,000 litres of water going into the production of just 1kg of beef while industrially grown lettuce uses 130 litres per kilogram. Home-grown vegetables require much less water than any industrial crop-growing system. With the certainty of ever-increasing food prices, it's a lifestyle move that makes perfect sense.