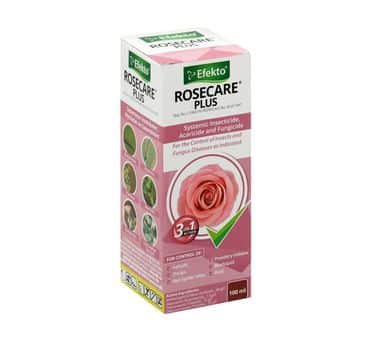 ROSECARE PLUS 100ml
R249.99
5 in stock
Description
A systemic insecticide, acaricide, and fungicide formulated as a micro-emulsion for the control of pests and diseases as indicated on roses and ornamentals. For use on outdoor plants only. Not suitable for edible crops.
How does it work?
The combination of systemic fungicides and systemic insecticides creates an efficient means of controlling both insect pests and fungus disease. The fungicides and insecticides in efekto rosecare plus, is systemic in action. This means the active ingredient passes through the plant tissues and fights the target diseases and insects from inside the plant.
Spray whenever diseases or insects are visible, also start an early preventative spray program at the beginning of spring once foliage emerges.
Where can it be used?
Roses (all types) and ornamentals (shrubs, flowering annuals, and perennials). Controls aphids, mealybug, red spider mite, thrips, black spot, rust, and powdery mildew.
5 in stock