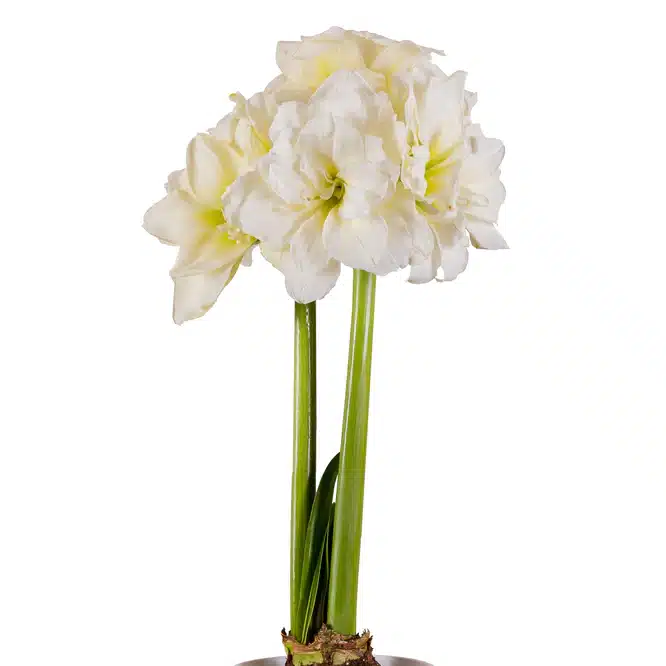 BULB PACK AMARYLLIS SONATA DOUBLE ALFRESCO
R99.99
Out of stock
Description
PLEASE NOTE: This product is a BULB and the image depicts what the bulb will look like once it matures. It is NOT a flower.
This amaryllis sonata double – alfresco bulb pack is the perfect way to add beauty to your garden or balcony. Popular and easy to grow, this amaryllis blooms with double white flowers, creating a spectacular display throughout the summer season. With two bulbs per pack, you can bring a brilliant show of colour to your space.
Plant early September to January to flower in October to February.
The bulb will go dormant from May – August.
2 bulbs in pack.
Please see plant care tab for more information.
Plant depth: Plant with the neck above the soil
Sun exposure: Full sun and semi-shade
Plant spacing: 10cm apart
Watering: After planting, water and then wait 10 days for the roots to stabilise. Then, water every 3-4 days when planted in the ground for 10 minutes. If you have planted them in containers, water every 2-3 days, until water runs out from the bottom of the container. Empty saucers 30 minutes after watering.
They are happy in well-draining soil, but tolerate a variety of soils, ranging from heavy loam to light sand.
Out of stock
Want to be notified when this product is back in stock?